From the high peaks of the Sierras to the rolling crest of the Blue Ridge, from the forest to the desert, the diversity of the U.S. must be experienced to be understood. Unfortunately, very few people have the time to visit every place. I have been to many sites around the country and am always looking for new places to go. I have pictures from Tennessee, Arizona, Utah, California, Virginia and more. As I visit more places, I will be adding more to this page and expanding existing pages.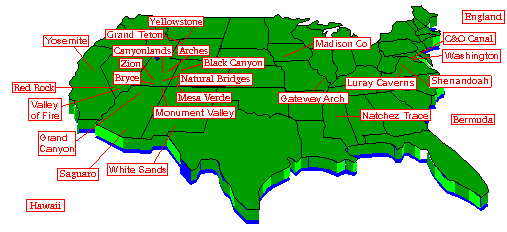 These photos are Copyright G. Edward Johnson.

Not On the Map
I have been to Salt Lake City a number of times and I love going hiking in the mountains around the city.
A hiking trail that runs along Seneca Creek in Gaithersburg and Germantown Maryland.
The seventeen year cicadas showed in May of 2004, right on time. Come on by and see them, you won't get another chance for a couple more years.
Over time I have built up an interesting collection of flowers. These aren't tied to a single location, so they are here. Some of these may also be in location specific pages.
This tree grows wild over large parts of the eastern US. It is also a popular landscaping tree. It has lots of beautiful white flowers in the spring. (But are the flowers really white? Read on and find out.)
Also sometimes called the Bush Honeysuckle. This invasive shrub often forms thickets at the edge of the forest. It has lots of white to pale orange flowers in the spring and translucent red berries in the fall.
An annual steeplechase horse race.
On the Map
Arches, Utah

Just outside of Moab, UT, this popular park has dozens of large sandstone arches. I was able to spend several days there and take lots of good pictures.

Bermuda

This country is a set of islands about 700 miles off the coast of South Carolina

Black Canyon of the Gunnison, Colorado

A narrow and deep gorge on the Gunnison river. In some places it is deeper than it is wide.

Bryce Canyon, Utah

A large bowl shaped canyon with unusual rock formations called Hoodoo's that are caused by erosion.

Canyonlands, Utah

A large canyon around the confluence of the Colorado and Green rivers in central Utah. Not as large as the Grand Canyon, it is none the less spectacular.

C & O Canal, Maryland

Pictures from Great Falls and Carderock, near D.C.

England, UK

Pictures from a visit to London and the surrounding area.

The Gateway Arch, St. Louis, Missouri

the Saint Louis arch was made as a monument for western expansion. It is part of the Jefferson National Expansion Memorial.

The Grand Canyon, Arizona

One of the most spectacular examples of erosion anywhere in the world, Grand Canyon is unmatched in the incomparable vistas it offers to visitors on the rim.

Grand Teton National Park, Wyoming

Big, Beautiful mountains and lakes.

Hawaii

A week-long trip to Hawaii yielded this journal with bunches of pictures. Volcanos, N.P., Hana, Molokini Crater, and more. lots of waterfalls.

Luray Caverns, Luray, VA

One of the most impressive caverns on the east coast. Nowhere near the largest, but it has a huge variety of flowstone, columns, stalagtites, and stalagmites.

Madison County, Iowa

Perhaps you've heard about the Bridges in Madison County, or have always wanted to see where John Wayne was born, here's some pictures of both.

Mesa Verde, Colorado

There are many cliff dwellings from the Anasazi indians. These ruins are over 800 years old and show a mastery of building.

Monument Valley, Arizona

A Navajo Nation park, located in northern Arizona. Monument Valley is famous for its huge buttes and the many western's that have been filmed there.

The Natchez Trace, Tennessee

This historic route generally follows the old Indian trace, or trail, between Nashville, Tennessee., and Natchez, Mississippi.

Natural Bridges, Utah

Three massive natural bridges cut by the erosive forces of a running stream.

Red Rock Canyon, Nevada

A stunning outcropping of huge red rocks a short drive west of Las Vegas.

Saguaro, National Park, Arizona, and the surrounding area

I went to Tucson to see Saguaro National Park, but I also spent a lot of time around Tucson and got some great pictures from that area.

Shenandoah, National Park, Virginia

Skyline Drive winds through hardwood forests along the crest of this outstanding portion of the Blue Ridge Mountains in Virginia. There are hundreds of miles of hiking trails, many waterfalls, and much more.

Valley of Fire, Nevada

Nevada's oldest state park. It is a broad valley with red sandstone cliffs that the sun reflects off of making them appear to be "on fire".

Washington DC.

The Nation's capitol, located on a parcel of land carved out of the state of Maryland. Here are some interesting buildings and Monuments.

White Sands National Monument, New Mexico

White Sands contains a significant portion of the world's largest gypsum dunefield. The glistening white dunes rise 60 feet high and cover 275 square miles.

Yellowstone National Park, Wyoming

Geysers, bison, waterfalls, and more.

Yosemite National Park, California

Yosemite National Park embraces almost 1,200 square miles of scenic wild lands set aside in 1890 to preserve a portion of the central Sierra Nevada that stretches along California' s eastern flank. Yosemite ranges from 2,000 feet above sea level to more than 13,000 feet.

Zion National Park, Utah

Located in Southern Utah, Zion is best known for the narrow canyon that the virgin river flows through.

Quick Shots

Here are some other locations which there are only one or two pictures of each. The Alamo, the Golden Gate Bridge, Lake Tahoe, New Orleans, a random oil rig (actually a pump jack), the Petrified Forest, and Rock Creek Park in Maryland,

This technique can help you get good pictures in very difficult situations.
I compared simply scaling up a picture 3 times with using a 3x teleconverter.
This archive contains digitized photos of many of the unique research aircraft flown at what is now known as NASA Dryden Flight Research Center from the 1940s to the present.
---

G. Edward Johnson

Copyright 1995-2020, G. Edward Johnson. All rights reserved.