Shenandoah National Park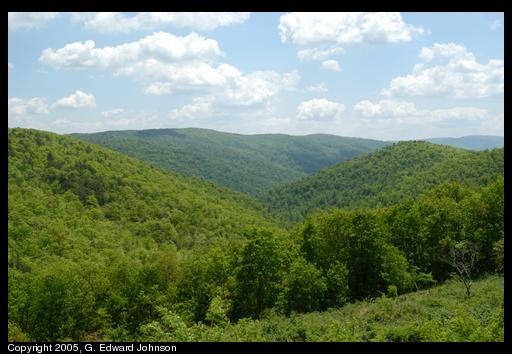 Shenandoah National park runs along the crest of an outstanding portion of the Blue Ridge Mountains in eastern Virginia. To the west lies the Shenandoah River and to the east is the Peidmont. On various occasions I have driven parts of the drive, and have been camping a few times there.
Shenandoah National Park was created in 1926 and was dedicated in 1936. When it was created, the land was mostly worn out farmland, but now more than 95 percent of the park is covered by forest. A ninety-five mile segment of the Appalachian Trail runs the length of the park with many trailheads on Skyline Drive. There are also hundreds of miles of other hiking trails for you to enjoy. Skyline Drive is best known for it's brilliant fall colors, unfortunatly I always seem to be either a bit early or a bit late for them.
I have been there enough times that I have too many photos to put on one page and have divided them by topic. Be sure to see them all!
Skyline Drive. The best-known portion of the park, it follows the ridgeline and has many beautiful views.
Dickey Ridge. At the northern edge of the park, a visitor center, picnic area, Fox Hollow trail, and Snead Farm Trail.
Waterfall pictures. The park has more than a dozen waterfalls that you can hike to.
Trails. Hundreds of miles of trails criss-cross the park.

Copyright 1994-2022, G. Edward Johnson. All rights reserved.