The Grand Canyon
Located entirely in northern Arizona, the Grand Canyon encompasses 277 miles of the Colorado River and adjacent uplands. One of the most spectacular examples of erosion anywhere in the world, Grand Canyon is unmatched in the incomparable vistas it offers to visitors on the rim. Grand Canyon National Park is a World Heritage Site.
I have been to the grand canyon several times, these pictures are from trips I took in 1994 and again in 1995. The expanse of it is hard to comprehend from the rim, I strongly recommend that you take the time to hike a little ways down the canyon. The last time I was there, was early June of 1995, it was pretty crowded and I hear it only gets worse as the summer progresses, so go to the Grand Canyon as early if you can.
To view a picture, click on the thumbnail image or its description.
Copyright 1994,1995, G. Edward Johnson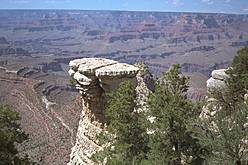 Overlooking the Grand Canyon, from Grandview point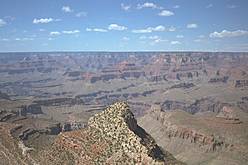 The Grand Canyon, from Grandview Point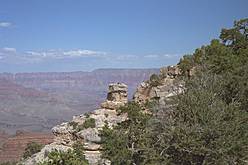 The Grand Canyon, from Mather Point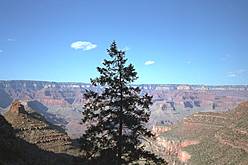 Tree silhouetted against the canyon, Bright Angel trail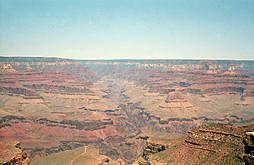 The wide canyon
There is lots of red in the rocks of the canyon walls here. You can see how the ground has eroded through many layers of rock. At the bottom of the picture you can see a trail going out to an overlook.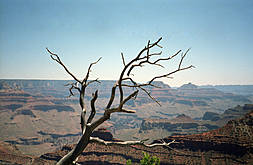 Dead tree above the canyon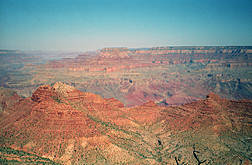 Red canyon
It's hard to comprehend how wide the canyon is, you recognize it is big, but the scale is too huge to understand.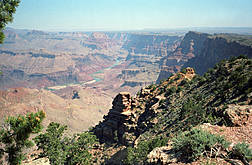 The river far below
Looking into the grand canyon with the thin ribbon of the river at the bottom.
Other Grand Canyon resources:
Copyright 1995-2011, G. Edward Johnson. All rights reserved.