Chase Avenue Park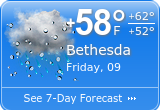 4701 Chase Ave., Bethesda, MD. One block off Wisconsin Ave (Rt 355), near the CVS. (map)
This small urban park has a playground, picnic tables, and a gazebo.
The park itself is a corner lot, it is pretty small. The playground is small, with a jungle gym, a teeter-totter, some swings and a metal pipe fire truck to climb on. The play area is partially shaded. Just one block away is another small park Cheltenham Park that is really the 'other half' of this park, the play area there has slides and other things that are missing from this park.
There is are a couple of tables and chairs as well as benches to sit at. The park is pretty well shaded by trees, so not much grass is around. There isn't any parking available.
Detailed park inventory
Playground Equipment
Quantity
Condition
Description
Baby Swings
1
good
Child Swings
1
good
Standard Swings
2
good
Jungle Gym
1
good
Teeter-Totter
1
good
Pipe fire truck
1
good
Relaxing/Picnicing
Quantity
Condition
Description
Benches
5
good
Tables
2
Environment
Quantity
Condition
Description
Grass
yes
poor
Too much shade to grow well
Trees
yes
good
Shade
yes
good
Almost the whole park is shaded by trees.
Other
Quantity
Condition
Description
Trash cans
yes
External links
Other nearby parks
Find other nearby parks.
Cheltenham Park is one block away on Tilbury St